Varsity completes the sweep of Klein Forest 5-1!
A terrific pitching performance by Kevin Hoy allowed the Panthers to defeat a very tough KF team. [This is the best KF team in a long time, without almost everyone back from a team that narrowly missed the playoffs last year. They are for real, folks.] Kevin got the start and went five innings, allowing just one run on just three hits and one walk. Great work, Kevin Hoy! Ben Content finished the job, allowing 0 runs on two hits and two walks with 1 strikeout. The Panthers ended the game on a double play.
The Panthers scored 1 in the first, 1 in the third, 1 in the fifth and 2 in the sixth. Trevor Gracey had three big RBIs (for the 2nd time this week) on two hits (1 double). Ryan Kasper also had two hits to lead the offense.
Great win, Panthers! The Panthers move to 4-0 in district! Now go get Klein next week! Let's go Oak!
---
Sophomores and JV both down Klein Forest in 3 innings!
Sophomores prevailed 15-0 behind the pitching of Aaron Kersey - 0 runs on 3 hits with 1 walk and 4 strikeouts!
The Panthers scored 8 in the first, six in the second and ended the game with a final run in the third. Leading the offense with two hits each were Colton Hitt, Aaron Kersey, and Mason Anderton.
The JV prevailed 22-0 behind the pitching of Christian Huerta - 0 runs on 2 hits, 2 walks and 3 strikeouts.
The Panthers scored 12 in the first and 10 in the third. Warren Blair led the offense with three hits and four RBIs. Kaden Kleinert and Dominic Romero both had two hits and three RBIs.
Nice work by both teams! Way to go Oak!
---
Senior Night Photos
Click here for baseball and Diamond Girls Senior Night photos from Tuesday, March 21st. These are high resolution versions that should be suitable for any prints you would like to make.
Game pictures from the KF game on Tuesday will come ASAP.
---
Panthers come from behind to down Klein Forest 7-6!
Well, this was interesting. Not artful, but interesting.
Forest took the lead in the top of the first when three Panthers stopped in their tracks and watched a fly ball drop right in the middle of them. It kind of set the tone for a strange evening.
In the bottom of the 1st Trevor Gracey walked, advanced to 3rd on a Jackson Dietel single, then scored on a Chase Cos single. 1-1.
Singles by Bryson Kemp and Cash McNicholas started the home 2nd. Then Ryan Kasper was hit. Bases loaded. Trevor Gracey cleared the bases on a clutch 3 RBI double. After a Jackson Dietel single, Trevor scored on a sac fly by Chase Cos. 5-1 and it looked like the Panthers were in command.
But the Golden Eagles added two in the top of the 4th to make it 5-3. Then they took the lead in the top of the sixth with a two out rally that included a home run. KF 6; Oak 5. Kevin Hoy came in to secure the final out without drama.
In the bottom of the 6th Bryson Kemp doubled with one out. With two outs Ryan Kasper singled and then Eduardo Malinowski singled to score Bryson. 6-6.
Ben Content came in to retire the side in order but KF pitcher Salgado - who was very good - did the same. But he was up against the pitch count so after Ben retired KF in order again in the 8th the Panthers faced a new pitcher. After one out Bryson Kemp singled. Ben Content reached on the Golden Eagles only error of the evening. Ryan Kasper walked to load the bases. With two outs Adam Houck walked to end the game. 7-6.
Well, it was a win and the Panthers are 3-0 in district! Way to hang tough, Panthers!
---
Sophomores and JV defeat Klein Forest!
The JV prevailed 13-2 and the Sophomores 21-0.
The JV scored 7 runs in the 4th inning to put the game away. Tucker McEnroe led the offense with two hits. Cameron Tobola got the win on the mound allowing five hits and 4 walks with 8 strikeouts. Nice work, Panthers!
The Sophomores scored 10 in the first and nine in the second to decide things. Colton Hitt led the offense with three hits. Zach Siefkas got the win on the mound, allowing 0 hits and one walk while striking out five in three innings. Nice job, Panthers!
---
Ben Content's 1 hit shutout, and some fancy leather, lead Panthers by Memorial 1-0!
Lots of fancy leather by the Panthers helped a bunch! Two incredible leaping stabs by 2nd baseman Ryan Kasper robbed the Mustangs of hits. The single hit came at the worst possible time, with two out in the top of the 6th but a runner on 2nd base (after Ben's only walk of the game). One of the Mustangs Trozzos singled to right field. But Chase Cos fielded the ball and threw a perfect strike to Dyland Singletary at home plate to easily secure the out at the plate (despite an impressive leap by over Dylan by pinch baserunner Barnet).
Eduardo Malinowski led off the bottom of the 1st with an impressive double. After a sacrifice by Trevor Gracey a Jackson Dietel single scored Eduardo. That was the Panthers only run; credit a really nice pitching job by the Mustangs Christian Rios for that. However, it was the only run Ben, with some help by his friends, needed. Eduardo and Dylan Singletary both had two hits to lead the Panthers.
The Panthers move to 2-0 in district play. Nice work, Panthers! Photo gallery - Everything is now posted. Stay safe for the rest of Spring Break and go get (a very good) Klein Forest next week!
---
JV splits a double-header against Memorial as Luke McCoy pitches a 1 hitter and Josh Rodriguez homers twice in the nightcap!
We're calling it a win since the JV also won on Monday, but the Panthers dropped game one on Wednesday 6-1 at Memorial. Mason Dietel got the start and went five innings, allowing 6 runs on 9 hits and 2 walks with 3 strikeouts. Justin Barnes held the Mustangs scoreless in the final inning, allowing just two walks. A.J. Wilson and Logan Balmanno led the offense with two hits each.
Luke McCoy got the complete game, one hit,14-2 win in the nightcap, allowing 2 runs on 1 hit and 0 walks. Amazing work, Luke!
Josh Rodriguez was equally amazing with 2 home runs (3 hits) and an incredible 7 RBIs! Wow! Great game, Panthers!
---
Sophomores beat Memorial 5-4!
Lawson Wachel got the start and pitched five innings, allowing 4 runs on 7 hits and 2 walks with 5 strikeouts. Myles Castor pitched the final two, allowing 0 runs on 1 hit with 0 walks and 3 strikeouts. Nice work, gentlemen!
Kyle Bishop had two hits to lead the offense, but Coy Garner, Lawson Wachel and Jackson Jarratt had a hit and an RBI.
Nice win guys! Photo gallery - 1st part is posted and more to come.
---
Varsity 1-0 after 7-2 win at Memorial!
Jackson Dietel pitched a two hit shutout through six innings to get the Panthers off to a winning start in district play.
Eduardo Malinowski's bases loaded thriple in the top of the fifth broke a scoreless tie. Eduardo also singled. Joining him with two hits were Bryson Kemp and Trevor Gracey.
Nice work, Panthers! Get another one on Thursday at Panther Field!
---
JV downs Memorial 10-4!
Great game, Panthers! Our Panthers fell behind early, trailing 3-0 heading to the bottom of the 2nd. But they kept the faith and scored 8 in the bottom of the 2nd to take the lead for good.
Logan Balmanno got the win on the mound. He went five innings, surrendering 4 runs (2 earned) on 7 hits and 3 walks with 7 strikeouts. Jacob Mata pitched two innings in relief, allowing 0 runs on 0 hits with 3 walks and 2 strikeouts.
Hunter Smith led the offense with 2 hits, including a double, and 3 RBIs. Kolby McCorkle also had 2 hits and 3 RBIs. Wesley Casey had two hits and 1 RBI. Photo gallery.
---
Sophomores fall to Memorial 7-0.
Our Panthers managed only 1 hit and committed 2 errors. That's not a recipe for success and it wasn't Monday night as the Sophomore team dropped the first district game.
---
Travelling to Memorial High School?
Memorial is located just south of 1-10 on Echo Lane. The school is on the west side of Echo Lane but the baseball field is adjacent to the "field house" on the east side of Echo Lane, at the corner of Gaylord.
Probably the best route is 249 south to the Sam Houston Tollway. Turn right onto the tollway to I-10 and then I-10 east to Echo Lane (which is the first or second exit). Turn right on Echo Lane and left on Gaylord then immediately left again into the parking lot.
---
All games cancelled on Saturday, March 11th
... due to weather and field conditions.
So now everyone is 0-0 and it's time for district play, starting on Monday. Let's go Oak!!!
---
JV defeats Tomball Memorial 4-2!
Somehow the JV guys managed to score only four runs on thirteen hits, but we'll forgive them for that!
Jacob Mata was the winner with five innings of work, allowing two runs on two hits with three walks and four strikeouts. Nice.
Tucker McEnroe finished the game on the mound allowing 0 runs on 1 hit and 1 walk with four strikeouts. Nice again!
Blake Fortunato, Aaron Lynch and Brent Morgan all had three hits to lead the offense. Outstanding! Jacob Mata had two RBIs on one hit.
This was scheduled for a double-header but I'm guessing the second game was cancelled due to weather.
---
Varsity beats Grapevine then falls to Deer Park.
Great game against Grapevine! Nice pitching by Kevin Hoy, great defense, and just enough offense for a 4-2 win!
Kevin Hoy went the distance, allowing just two runs on four hits and 1 walk with 3 strikeouts. Nice work, Kevin!
Jackson Dietel led the offense with two hits and two RBIs. Also collecting two hits were Eduardo Malinowski, Chase Cos and Ryan Gryder. Each of those guys had a double. Way to go, Panthers! Nice win!
The Deer Park game just started badly. We all have great confidence in Ben Content on the mound but it wasn't his day. Give credit to a very good Deer Park team for 9 runs in the first three innings. Relief pitcher Drake Dalton had his best outing, throwing two 0s on the board while not allowing a hit, ably aided by two Panther double plays. Luke McCoy finished things with a quick inning, allowing just one hit.
---
Sophomores beat Magnolia 7-2!
The Panthers jumped out to a four run 1st inning lead. Blain Birner, Myles Castor and Mason Anderton all had two hits to lead the offense.
Aaron Kersey pitched the entire six inning game, allowing two runs on five hits and two walks. Well done!
---
Varsity falls twice in Wings-N-More Tournament
In the first game against Atascocita the Panthers fell behind 1-0 after the first but were in it after Chase Cos homered in 5th to bring the score to 3-2. But the Panthers surrendered 3 runs in the next inning to lose 6-2. Eduardo Malinowski led the offense with three hits. Starting pitcher Jackson Dietel pitched four innings, allowing two runs on six hits and no walks.
In the second game against Flower Mound Marcus the Panthers grabbed a 4-0 lead in the second, but surrendered 3 in the third, 2 in the fifth and 2 in the sixth to lose 7-4. Bryson Kemp and Cash McNicholas led the offense with two hits each while starting pitcher Trevor Gracey had two RBIs. Gracey pitched four innings, allowing three runs on 5 hits and 2 walks.
---
Golf Tournament!
Monday, April 10th with a 1 pm starting tee time
Augusta Pines Golf Club
Sponsors and players needed!
---
Sophomores blast College Station 11-3!
Lawson Wachel pitched three innings, allowing three runs on four hits. Eryn Kersey allowed just one hit in the final two innings.
Matthew Stone led the offense with one hit and two RBIs. Way to go, Oak!
---
Varsity falls to Cy-Fair in heartbreaker.
Every baseball player has suffered through the inning from hell. Our Panthers did today in the 6th. The fifth inning ended five minutes shy of the time limit with the Panthers ahead 5-3. 10 Cy-Fair runs later we went to the bottom of the 6th inning. Ouch! The 13-5 score wasn't close but the game was.
The Panthers went through three pitchers in the 6th. [Keep your heads up guys. It just wasn't your day.] To make matters worse it started raining, resulting in a series of slick ball errors from guys who don't do that. If anything could go wrong, it did.
Parents, I want you to know that the only concern in the dugout in that sixth inning was consoling and lifting up a devasted, young pitcher who thought he's let down his teammates. That's what kind of sons you're raised. Thank you!
The loss wasted a nice start by Josh Seale. He threw three 0s on the board to start the game. That's no small accomplishment against a very strong Cy-Fair team. Ryan Gryder led the offense with two hits and two RBIs.
---
JV wins 3 and ties 2 in Cy-Fair Tourney!
The Panthers downed Cy-Woods 3-2, Langham Creek 4-2 and Cy-Springs 3-0 before settling for a 3-3 tie with Cy-Lakes.
The JV tied Cy-Fair on Saturday, 1-1.
No stats available on these.
---
Varsity beats Willis 7-3!
Trevor Gracey had three doubles and a single to lead the Panther offsense over Willis.
Kevin Hoy got the win on the mound for the Panthers - three runs on 9 hits, 1 walk and 8 strikeouts. Josh Seale finished things off with the last two outs in the final inning.
---
Sophomores smash The Woodlands 10-2 and Pasadena 14-2!
Awesome job, Panthers, beating the Highlanders decisively on their home field!
Ethan Litherland - #10 - nearly pitched a no hitter, surrendering a single hit in the 7th inning after 1 out. Jackson Jarratt closed in the 7th.
Photo gallery. Part 1 and Part 2 are now posted. I hope you like them!
This great win came on the heals of the Sophs 14-2 win over Pasadena. Logan Zermeno and Caleb Ausmus combined for the win on the mound. Matthew Stone had three hits, including a double. Mason Anderton had two hits and two RBIs.
---
Varsity falls to Cy-Woods 5-3
Trevor Gracey went the distance on the mound, giving up 5 runs on 9 hits with 1walk and 2 strikeouts.
The Panthers managed six hits - 2 by Chase Cos - and committed two errors.
---
Jackson Dietel's shutout gets Panther back on the winning track 3-0!
Great job, Jackson! 9 K's with 3 hits and 0 BBs is just stellar!
Eduardo Malinowski led the Panther offense with 2 hits.
---
Varsity fights Rudder to a 1-1 draw in 7 innings.
A great pitching performance by Ben Content, error free, excellent defense, two great hits by Sophomore outfielder Bryson Kemp and a clutch hit by pinch hitter Dylan Singletary gave the Panthers an excellent chance to beat a tough Rudder team. It didn't happen for a couple of reasons:

The Panthers are not staying on the top half of the ball. [Easier said than done, for sure.] They continue to hit a record number of pop flies.
The only time Ben Content struggled a bit was after two outs and empty bases in the top of the 5th. Three consecutive hits gave Rudder their only run.

Bryson Kemp scored KO's only run in the bottom of the 4th on a sac fly by fellow Sophomore Tyler Thompson.
The Panthers had a final chance in the 7th. Tyler Thompson walked and Ryan Kasper came in to run for him. Ryan stole 2nd. With one out Dylan Singletary delivered a base hit single to left field but a nice throw got Ryan out at home. The end.
---
A note about photographs from your webmaster
I've posted the first of my photographs of our Panthers on my Smugmug site. All photos will be at https://garynelson.smugmug.com/KO-Baseball. I shot two varsity games and one JV game this weekend. I will shoot - Lord willing - our Sophomores next weekend at The Woodlands. I can't be everywhere so I'd love to have some help from parents in taking pictures for these players. Please contact me at garykohs@att.net if you are willing to help take pictures.
Please understand that it takes me about 2 hours to process and post pictures that take one hour to shoot. So each game equals about six hours of my time. Please be patient.
Also, there's a purchase photos link on my Smugmug site. You can order prints at that link. I don't get any payment from those orders. So it's fine with me if you download the pictures and use them however you'd like, including printing them yourself or via Walgreens or Costco, etc.
If you're downloading a shot you should use the button to the left of "buy" to load the "original" version. But that is not really my original because I'm posting 2,000 pixel images. (That's good for printing up to about 10 inches.) I can give you a much larger version of most of these if you email me at garykohs@att.net.
Finally - Parents - As you see a shot you like, please save it. When the season is coming to an end we will ask you to select some pictures that will be used for a slideshow. Plan ahead. I'll try to take pictures of everyone but some players will have more pictures than others.
---
JV blasts Bryan 12-3!
Congratulations guys on a great win. No details from a webmaster without stats access.
Photo gallery. Sorry that our system blocks Smugmug on student computers. Use your home PC or your phone.
---
Sophomores clobber Cy-Lakes 13-4
Earlier on Saturday the Sophomore team scored one in the 4th and one in the fifth and final inning to defeat Stratford 6-4.
Congratulations, guys. Sorry I can't offer details but your webmaster still doesn't have access to stats on Gamechanger.
---
Varsity drops 2 close ones.
Well, this is going to be a challenge, but our Panthers have to put this whole weekend in the rear view mirror.
There were some good things. A couple of early game errors resulted in a deficit to a very good Foster team. But the Panthers fought back, led by a great pitching performance by Drake Dalton. But they stranded too many baserunners and dropped a 6-4 decision to Foster. Photo gallery.
Trevor Gracey gave the Panthers a great game on the mound in the nightcap against host The Woodlands, holding the Highlanders to two runs. But the Panthers scored only one, leaving a couple of runners stranded in the 7th inning.
We believe in you, Panthers. Forget this tournament, hang tough together - as we know you will - and let's get some Ws next weekend as we defend our home field!
---
JV falls to Kingwood 6-0
---
Sophomores beat Langham Creek 8-1 in 6!
Great job, guys! A. Kersey delivered five great innings on the mound and J. Jarrat finished things in the 6th. Kersey also had three hits and three RBIs.
---
Varsity gets blitzed by Kempner 16-5 in 4 innings.
Well, if I didn't know how good our Panthers are I would be really worried after watching this game. But I do know how good they are, and how determined they are. So my money is on the Panthers.
But today the better team was Kempner. Our guys know where the standard is because they saw it today. I know they will get to work to get better, to make sure this doesn't happen later in the season.
It was one of those "If anything can go wrong ..." type of games. Starting pitcher Kevin Hoy didn't have his usual control. And then we had to use several guys who haven't pitched in ... well, a very long time - like years not months. Trevor Howe was really pretty amazing, considering he never thought he'd be standing on that mound. Way to battle, young man! Same thing with Sophomore Bryson Kemp and Junior Adam Houck. You won't see them listed as pitchers on the roster. But they're competitors. Thanks, guys.
Photo gallery. Part 1 is now posted. The others are coming. [This site is blocked on KISD student computers, by the way.]
---
Varsity falls to Flower Mound 5-3
The Panthers dug themselves a 4-0 hole in the 2nd inning.
A two RBI, bases loaded single by Dylan Singletary in the bottom of the 5th brought the Panthers within two. However the game ended on the time limit.
---
Opening Day 2017!
The Varsity started with a 10-5 win over Dekaney! Game 2 was a 7-7 tie with Langham Creek.

Your webmaster still doesn't have access to game stats so I have no details to report. Sorry about that.

The Sophomore team started with a 5-3 win over Cy-Ranch. They dropped the second game in a 6-3 loss to Cy-Fair.

Once again, I don't have access to stats on Gamechanger so I don't know any details.

JV defeated The Woodlands 4-3.
---
Sweet! Strong pitching staff leads varsity past Tomball Memorial!
It was 1-1in the top of the 2nd. Jackson Dietal, Ben Content, Trevor Gracey, Josh Seale, Ryan Gryder and Drake Dalton were stallwart on the mound until the Panthers notched the win in the 10th with a Ben Content walk.
Way to hang tough, Panthers!
---
Congratulations to our Sophomore Team for a great start!
Our youngest Panthers began their KO careers with a 16-1 win over Tomball Memorial. It's just a scimmage but that's pretty strong!
Great work, Panthers! We're proud of you!
---
Meet the Panthers!
Saturday, Feb 2nd at noon at Panther Field
Meet all the players and enjoy lunch courtesy of the booster club. Enjoy scrimmages! Everyone is welcome!
---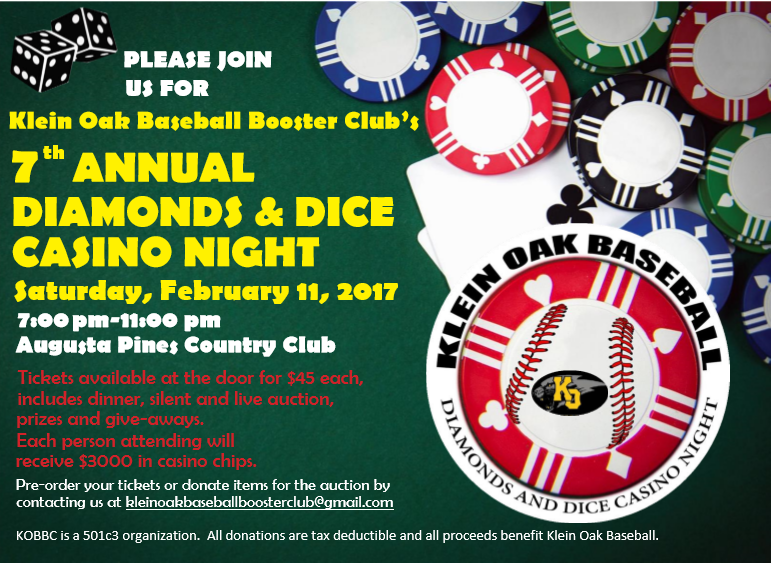 ---

2017 Baseball Calendar
Click here for the calendar page. You can click on any month to download a printable PDF file.
Also, the schedules are posted. Note the links to baseball pages and site locations.
---
KO Baseball Tryouts!
Friday, January 27th and Saturday, January 28th

Must be there for both days of tryouts!
Basketball players will try out on Saturday, January 28th

Mandatory Information Meeting for anyone wishing to try out on January 18th right after school in the Teaching Theater.
Players must have a physical on file before trying out.

Physicals may be picked up from the training room.

Any questions contact Coach Hernandez rhernandez@kleinisd.net.
---

---

---

Kickball Tournament Postponed
... until Saturday, January 7th due to forecast heavy rains on the 3rd. Please bring your toys on Monday or Tuesday to Mrs. Kowis's room or Coach Burks' room.
---

---
NCAA Eligibility PowerPoint
Please click here if you hope to play at the next level!
---
Scroll above for more news