A note about photographs from your webmaster
I've posted the first of my photographs of our Panthers on my Smugmug site. All photos will be at https://garynelson.smugmug.com/KO-Baseball. I shot two varsity games and one JV game this weekend. I will shoot - Lord willing - our Sophomores next weekend at The Woodlands. I can't be everywhere so I'd love to have some help from parents in taking pictures for these players. Please contact me at garykohs@att.net if you are willing to help take pictures.
Please understand that it takes me about 2 hours to process and post pictures that take one hour to shoot. So each game equals about six hours of my time. Please be patient.
Also, there's a purchase photos link on my Smugmug site. You can order prints at that link. I don't get any payment from those orders. So it's fine with me if you download the pictures and use them however you'd like, including printing them yourself or via Walgreens or Costco, etc. I'm taking these pictures for the players and their families. These Panthers are my sports heroes - I'll pass on the "pros" - because I know how hard our Panthers work and what incredibly great people they are. I'm just proud to be associated with these people. And that goes for our amazing Diamond Girls also!
If you're downloading a shot you should use the button to the left of "buy" to load the "original" version. But that is not really my original because I'm posting 2,000 pixel images. (That's good for printing up to about 10 inches.) I can give you a much larger version of most of these if you email me at garykohs@att.net.
Finally - Parents - As you see a shot you like, please save it. When the season is coming to an end we will ask you to select some pictures that will be used for a slideshow. Plan ahead. I'll try to take pictures of everyone but some players will have more pictures than others.
---
JV blasts Bryan 12-3!
Congratulations guys on a great win. No details from a webmaster without stats access.
---
Sophomores clobber Cy-Lakes 13-4
Earlier on Saturday the Sophomore team scored one in the 4th and one in the fifth and final inning to defeat Stratford 6-4.
Congratulations, guys. Sorry I can't offer details but your webmaster still doesn't have access to stats on Gamechanger.
---
Varsity drops 2 close ones.
Well, this is going to be a challenge, but our Panthers have to put this whole weekend in the rear view mirror.
There were some good things. A couple of early game errors resulted in a deficit to a very good Foster team. But the Panthers fought back, led by a great pitching performance by Drake Dalton. But they stranded too many baserunners and dropped a 6-4 decision to Foster.
Trevor Gracey gave the Panthers a great game on the mound in the nightcap against host The Woodlands, holding the Highlanders to two runs. But the Panthers scored only one, leaving a couple of runners stranded in the 7th inning.
We believe in you, Panthers. Forget this tournament, hang tough together - as we know you will - and let's get some Ws next weekend as we defend our home field!
---
JV falls to Kingwood 6-0
---
Sophomores beat Langham Creek 8-1 in 6!
Great job, guys! A. Kersey delivered five great innings on the mound and J. Jarrat finished things in the 6th. Kersey also had three hits and three RBIs.
---
Varsity gets blitzed by Kempner 16-5 in 4 innings.
Well, if I didn't know how good our Panthers are I would be really worried after watching this game. But I do know how good they are, and how determined they are. So my money is on the Panthers.
But today the better team was Kempner. Our guys know where the standard is because they saw it today. I know they will get to work to get better, to make sure this doesn't happen later in the season.
It was one of those "If anything can go wrong ..." type of games. Starting pitcher Kevin Hoy didn't have his usual control. And then we had to use several guys who haven't pitched in ... well, a very long time - like years not months. Trevor Howe was really pretty amazing, considering he never thought he'd be standing on that mound. Way to battle, young man! Same thing with Sophomore Bryson Kemp and Junior Adam Houck. You won't see them listed as pitchers on the roster. But they're competitors. Thanks, guys.
Photo gallery. Part 1 is now posted. The others are coming. [This site is blocked on KISD student computers, by the way.]
---
Varsity falls to Flower Mound 5-3
The Panthers dug themselves a 4-0 hole in the 2nd inning.
A two RBI, bases loaded single by Dylan Singletary in the bottom of the 5th brought the Panthers within two. However the game ended on the time limit.
---
Opening Day 2017!
The Varsity started with a 10-5 win over Dekaney! Game 2 was a 7-7 tie with Langham Creek.

Your webmaster still doesn't have access to game stats so I have no details to report. Sorry about that.

The Sophomore team started with a 5-3 win over Cy-Ranch. They dropped the second game in a 6-3 loss to Cy-Fair.

Once again, I don't have access to stats on Gamechanger so I don't know any details.

JV defeated The Woodlands 4-3.
---
Sweet! Strong pitching staff leads varsity past Tomball Memorial!
It was 1-1in the top of the 2nd. Jackson Dietal, Ben Content, Trevor Gracey, Josh Seale, Ryan Gryder and Drake Dalton were stallwart on the mound until the Panthers notched the win in the 10th with a Ben Content walk.
Way to hang tough, Panthers!
---
Congratulations to our Sophomore Team for a great start!
Our youngest Panthers began their KO careers with a 16-1 win over Tomball Memorial. It's just a scimmage but that's pretty strong!
Great work, Panthers! We're proud of you!
---
Meet the Panthers!
Saturday, Feb 2nd at noon at Panther Field
Meet all the players and enjoy lunch courtesy of the booster club. Enjoy scrimmages! Everyone is welcome!
---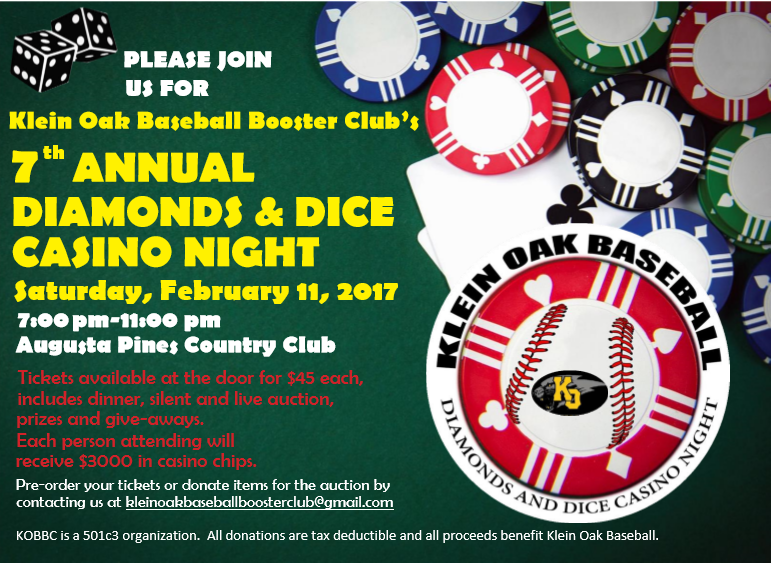 ---

2017 Baseball Calendar
Click here for the calendar page. You can click on any month to download a printable PDF file.
Also, the schedules are posted. Note the links to baseball pages and site locations.
---
KO Baseball Tryouts!
Friday, January 27th and Saturday, January 28th

Must be there for both days of tryouts!
Basketball players will try out on Saturday, January 28th

Mandatory Information Meeting for anyone wishing to try out on January 18th right after school in the Teaching Theater.
Players must have a physical on file before trying out.

Physicals may be picked up from the training room.

Any questions contact Coach Hernandez rhernandez@kleinisd.net.
---

---

---

Kickball Tournament Postponed
... until Saturday, January 7th due to forecast heavy rains on the 3rd. Please bring your toys on Monday or Tuesday to Mrs. Kowis's room or Coach Burks' room.
---

---
NCAA Eligibility PowerPoint
Please click here if you hope to play at the next level!
---
Scroll above for more news